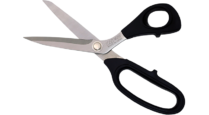 Professional sharpening service charges:
All upholstery, tailor, and drapery scissors are $18.00
Pinking scissors are $20.00
Thread clips are $8.00
Priority mail shipping and handling charges on sharpening service for scissors only are as follows:
1 -2 scissors are $10.95
3-5 scissors are $15.95
6-9 scissors are $18.95
How to order sharpening service:
Follow this link for a printable scissor sharpening order form. (PDF)
Mail to:
Scissorman
18 Robin Drive
North Grafton, MA 01536
All scissors are returned via priority mail in the same packing received within 48 hours upon receiving your scissors/shears.
Payment is due with the scissors and completed order form by check or money order made out to Scissorman, LLC. Any scissors too worn or damaged will be returned, and sharpening charges will be refunded by check to the customer.
Questions:
scissormanllc@gmail.com
Tel (508) 277-0878