Description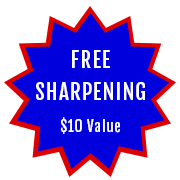 10 inch Professional Shears Slimline Version made in Japan. Ideal scissor for upholstery, drapery workrooms, leather, and awning and marine canvas fabricators.
Important features of the KAI Shears & Scissors:
The blades are extended to the grip ends to ensure high stability and perfect balance.
The tension adjustable screws/fasteners for fine adjustment of tension with ease.
The Elastmer soft plastic handles serve for comfortable work.
The blades are made of high carbon stainless steel to enable high durability and long lasting sharpness of cutting.
The 7000 Series is a new generation of professional tailoring shears. The blades are made of AUS8A stainless steel (3.7 4 mm. in thickness) and hardened up to 58+/-1 HRC. The shears are elegantly matt finished and equipped with a patented duplex interlock fastener that prevents the screw from becoming loose. The fastener is also heat treated and hardened up to 45 +/- 1 HRC. The 7000 Series is available 12 different models. A winner of the IF design award 2005.